So yesterday I made the decision to
not
go for a run. It was so windy outside, weather.com even said the wind could cause power outages. I know I was just making excuses, but the last time I ran in 'high' winds it was just a horrible run and I felt like I wasn't going anywhere! I know that if it was a race day I wouldn't let that stop me, but right now I have the choice.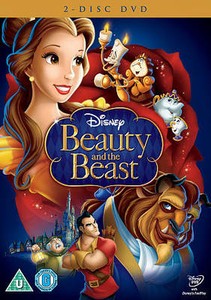 I needed to go food shopping, though, so I guess it worked out. And what did I see while walking into Sams Club... a display of Disney DVDs. Score! Since it was Sams, they were reasonably priced, too. I was toying with Beauty and the Beast and Tangled. I mean, I could have just gotten both, but I'm trying to save money to do these races. So I went with Beauty and the Beast, a classic, and it'll go back into the vault sooner or later. I watched it last night while I was reading Uglies. And they added a song?! Why do they feel the need to change the classics.
Back on the grind today. I
will
go for a run. I decided to start a training program now instead of in a couple of weeks. I made up a weekly schedule according to Jeff Galloway's
training programs
listed on the race website. I listed both "To Finish in Upright Position" which is 20 weeks and "Time Improvement" which is 23 weeks on my schedule. That puts me completing the program at the end of August or beginning of September! Then I'll have 4-5 months to improve before the race! I know I'm going to end up tweaking the program to fit my personal preference. The time improvement plan does 800s instead of long runs some days, so I'll adjust that as I see fit. I have a friend on board training with me. She's on the Beginner Runners program, so we're not doing the same mileage, but we're still running 'together'. I still need to read Galloway's book to get more tips and tricks.